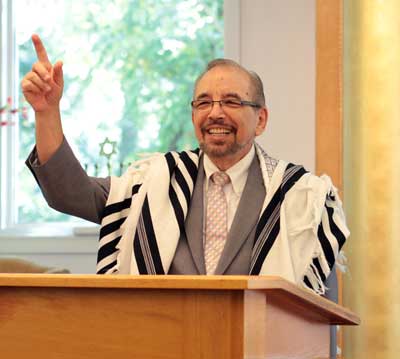 When you step inside Congregation Shaarei Shamayim there's an immediate sense of unity and togetherness—a spirit of holiness, that this is a very special place, is palpable. "We are a community of families who care about each other, and together we seek Gd," says Rabbi Mark Kunis. "We try to break down the barriers and walls that separate our people, so everyone feels welcome. That's why we offer both separate (machitza) and mixed seating for men and women, members and guests."
Congregation Shaarei Shamayim moved into the Clifton Community in March 2002 with 30 families worshiping at the shul. In just a few years, membership has expanded to include 120 families and in 2016, Shaarei Shamayim moved into permanent facilities on Mt. Mariah Road off North Druid Hills Road.
Shaarei Shamayim is a traditional synagogue in that it actively works to keep members engaged. "We are a participatory shul. Our members, who can, chant the different parts of the service, and for those who can't, we offer to teach them. And from time to time, members will lead Bible study as well," said Kunis. Throughout the year, members also celebrate Sabbath meals and holidays together including a Seder during Passover, Purim and Chanukah.
In addition to the many feasts and activities planned for members and guests, Shaarei Shamayim's Torah Scholars Institute presents the best of Atlanta's Jewish Scholars several times a year.
Anyone looking to join an intimate, involved congregation can fill out an online application at: www.shaareishamayim.com. Although there is a set dues structure, if members can't afford the set dues, they pay what they can afford.