Dancing
With God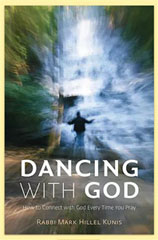 Dancing With God: How to Connect with God Every Time You Pray
by Rabbi Mark Kunis
There have been many books written that teach about prayer, its history, its structure and its meaning. This book will teach you how to pray and connect with God. In its wisdom, Jewish tradition has created what can only be understood as a dance that, if done properly, can lift the participant into an intimate encounter with the Divine. How is Jewish prayer a dance? One sits and stands, moves one's hands, moves backward and forward, bows and rises up; one chants and sings and embraces God. Each movement is pregnant with meaning. Taken together, Jewish prayer is nothing short of a most intimate dance with the Creator. This book was written to help the reader learn how to "dance" in such a way that he will connect with God every time he prays!
My book, Dancing with Gd: How to Connect with Gd Every Time You Pray, has finally arrived. It will be available from the shul office and if you buy it there or on its special website - www.dancingwithg-d.com - all proceeds will go to charity. It's also available at amazon.com and at www.Korenpub.com as well. If you buy it from the synagogue office I will be most happy to personally inscribe and sign it for you and you will not have to pay any shipping costs.
Rabbi Mark Hillel Kunis was ordained from Yeshiva University. He has dedicated his life to touching Jewish souls. He possesses a passion for the mystical and a unique ability to inspire. With the publication of Dancing With God Rabbi Kunis introduces readers to a prayer experience which they may never have imagined they were capable of.